DO YOU CARE?
Let's reflect on the sea
by Maria Pina Usai and Stefania Toro

In the summer of 2021, following Zones Portuaires Genova's invitation to reflect on the impacts of climate change and rising sea level on port cities, 12 lighting designers gathered in an international workshop organised by Condiviso, and developed a project to create a temporary installation on the dam that protects the port of Genova from the open sea, an infrastructure currently under transformation by the port authority.
1. Do You Care 01 | © Marta Mannino, Studio Switch, courtesy by Condiviso & U-BOOOT Lab


The starting question was "Do you care? Let's reflect on the sea". Reflection as a phenomenon was at the centre of concept and poetics of the lighting intervention project, whose philosophy is to imagine the city without boundaries and divisions, in order to perceive the territory in its spatial and temporal continuity, which includes the port infrastructures as urban spaces suspended between sea and land.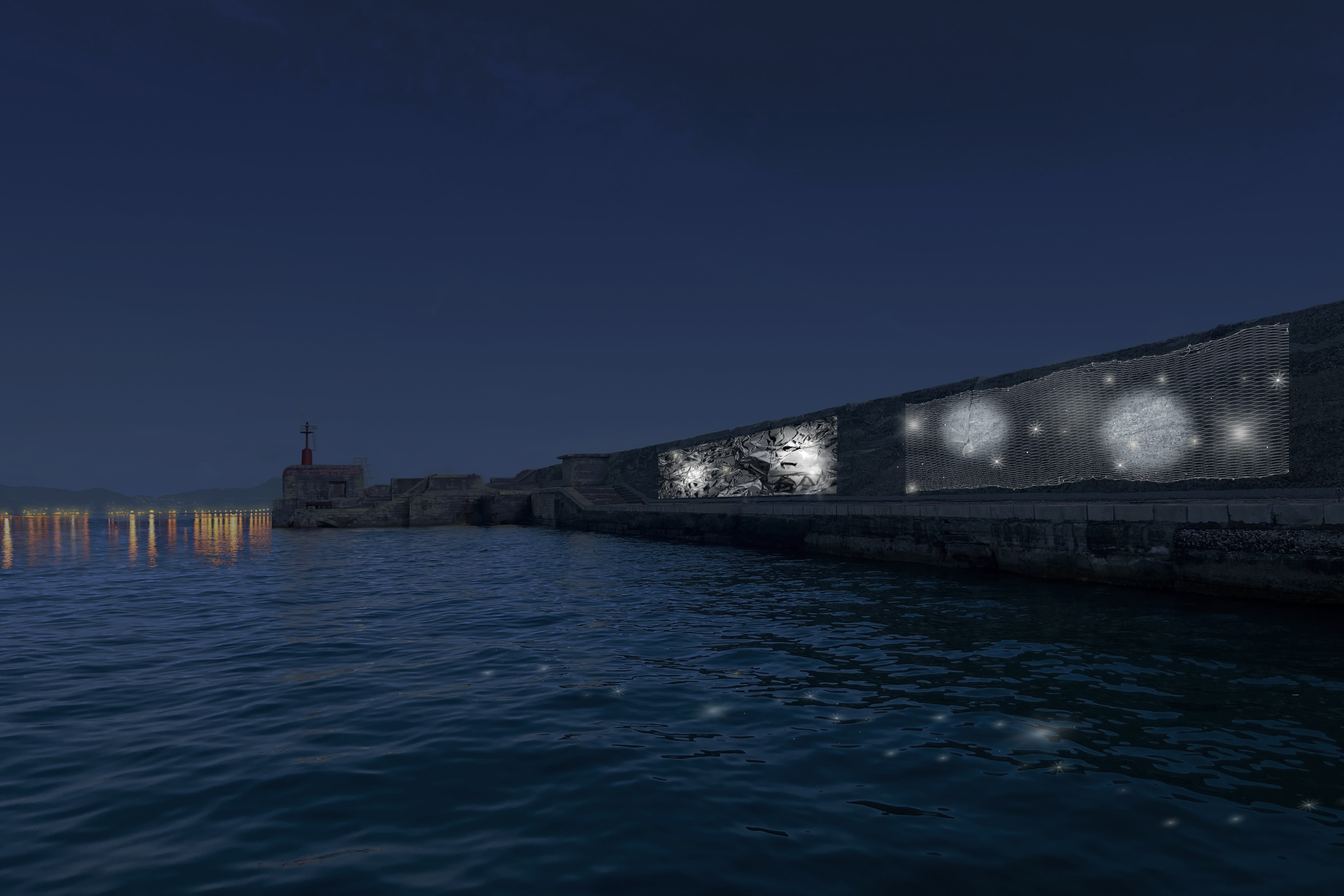 2. Do You Care 02 | © Marta Mannino, Studio Switch, courtesy by Condiviso & U-BOOOT Lab


Through temporary experimentation the dam, normally considered an inaccessible terrain vague, becomes a public space, accessible to the community and reconnected to the surrounding port urban landscape.



3. Do You Care 03 | © Carla Morganti, courtesy by Condiviso & U-BOOOT


The installation consists of three luminous scenarios, night and day: the first one simulates the flow of the sea though the installation of blue LED which, as well as simulating the waves, send multiple meanings SOS messages in Morse code: 'Save Our Sea', 'Showing Our Support'; in the second one another portion of the dam is set up with isothermal blankets normally used for sea rescue, which vibrate in the total darkness of the night with the direct intervention of the public, invited to illuminate them with torches; in the third one, during daytime, the reflective materials moved by the wind reverberate sunlight, and creating glares and unpredictable plays of light, help to lighten the materiality of the dam and its function as an architectural and visual barrier to the open sea.
(For more reading about the project)



CONTRIBUTORS

Zones Portuaires Curators:
Maria Pina Usai↩
and Maria Elena Buslacchi (U-BOOT Lab)
Workshop Curators:
Stefania Toro↩
(Condiviso) and Maria Pina Usai (U-BOOT Lab)
Workshop Coordinators: Giorgia Brusemini (Ogni casa è illuminata), Martina Frattura, and Giusy Gallina
Lighting Design Project by: Stefania Toro, Beatrice Bertolini, Camila Blanco, Giorgia Brusemin, Chiara Carucci, Simona Cosentino, Martina Frattura, Giusy Gallina, Liliana Iadeluca, Marta Mannino, Carla Morganti, and Sarah Elise Sartore
Partners: Autorità di Sistema Portuale del Mar Ligure Occidentale and SpaceCannon