Togethering
by Lena Heubusch
Togethering
looks at the (re-) use of urban wastelands through the lens of activating community. How can we make a city, its neighbourhoods, the urban realm, places where our communities continue to grow and connect? How can we keep becoming community when our current urban spaces are continuously being monetised? Architect Ignasi de Sola Morales who coined
terrain vague
, states that today, intervention in the existing city, in its residual spaces, in its folded interstices can no longer be either comfortable or efficacious in the manner postulated by the modern movement's efficient model of the enlightened tradition.
While not new in its use, inflatable architecture, ephemeral architecture that uses the propulsion of air as a means to shape temporary assemblages of varying size and shape, it can prove rather effective in the creation of nomadic communal places. They are spaces without structure that are generated by air, thus achieving architectures in which what is not seen becomes the essence and the space that is achieved is the maximum with the smallest enveloping surface. By inflating the skin, a volume is created that can accommodate different uses. This type of architecture allows changes in it thanks to its main material, air. They are transportable designs, easy to assemble, disassemble and store, thanks to the use of recycled plastic and textile materials, flexible and free from many restrictions of traditional architecture, which serve as the basis for a new design language that offers sustainable solutions and a fluid reuse of materials and spaces.


1. pattern design /
Lena Heubusch
2. seam /
Lena Heubusch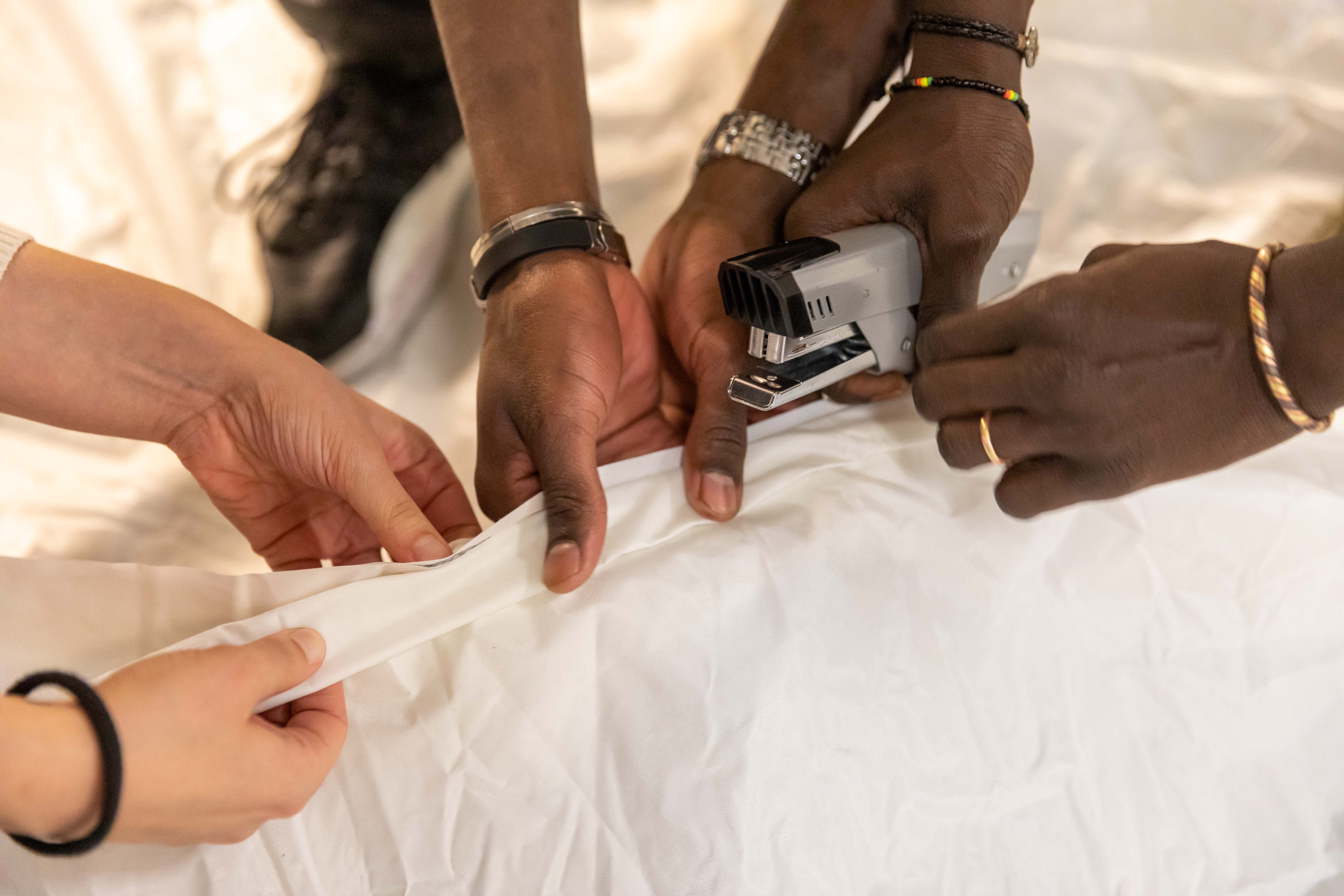 3. stapling
|
Álvaro López
4. inside view - film screening |
Lucasz Michalak
5. outside view - community |
Lucasz Michalak

This type of spatial intervention offers a form of freedom and adaptability that is expressed through experiential design. In this sense, it is a multi-purpose, ephemeral and personalised architectural space that can only be activated by nurturing the organic growth of local communities. The main purpose of such a space is to host events that enrich and connect local communities, may it be it through educational events in the Arts and Sciences, theatrical events (i.e. Theatre of the Oppressed), film screenings... the possibilities are endless.


CONTRIBUTORS


Lena Heubusch↩
,
Susanna Moliner↩
,
David Pérez↩
,
Ana Raquel Machava, Adriana C. Tarela, Talla Fall, Adam Hassan Saleh, Nasser Sokante, Patricia Alemany, Beatriz Lorenzo, José Hernández , Marina Benítez, Gema Marín, Sarah Durgali, Paula Jiménez, Yanelys Núñez, Diego Andrés Ramírez, Lucia Muñoz-Delgado, Artemisa Delmar Semedo, Elena Benito, Carmen de la Fuente, Maleny Cáceres, Lena Heubusch, Eva Gordo, Steve Zedong, Daniela Cardillo, Claudia Oliveira,
Meryem Aboulouafa↩
,