Mapping Future Memory
by Eleanor Peres and mone studio
LOCATION: QUEENSTOWN, TASMANIA
I acknowledge the palawa people of lutruwita (so-called Tasmania) and the gadigal people of eora nation (or Sydney) as the original and traditional custodians of the unceded lands on which this piece was first seeded and later edited.
I spent my childhood in Nipaluna and left for an architecture education on the mainland right as David Walsh lifted the trapdoor to the subterranean world of MONA in the summer of 2009. Ramblings on sex, death, religious backfire, gambling wizardry, tax evasion and art critique seemed to sting the fresh air that drips from Kunanyi down to Hobart. The Museum of Old and New Art executed a deeply Tasmanian rendition of a Getty-meets-Guggenheim phenomenon where every member of the state's creative industries seemed to emerge from hibernation to serve a throbbing population of visitors craving anything that felt authentic. It was more Marfa than Bilbao. Encounters of produce, talent and authenticity that accompanied departures from the International airport were not an overnight sensation but crafts carefully refined over decades. "It's hard to be up yourself this far down" was how Tourism Tasmania worded it in their 2019 'Come Down for Air' campaign. Hyping Hobart has been left in the hands of those who visit, mostly because its permanent population who call the CBD town are busy getting on with it.
You would be fooling yourself to think you might sense Tasmania in one weekend. Move around and take your time. If you cannot drive I recommend you go west on the four hour bus that services both Hobart and Queenstown on Tuesdays and Fridays only. I found myself here for two and a half weeks at the end of summer last year as an unlikely artist-in-residence, after Delta had settled and Omicron had yet to emerge. I had never made any art but since leaving Nipaluna for that education in architecture I followed a sleep-deprived decade of delirium between Sydney, Tokyo, Rotterdam, Moscow and Melbourne absorbing how space is made. I became fascinated with the idea that the built environment is a living, breathing, excreting machine that seemed out-of-sync with the larger inner workings of this planet. After a fast decade on the move, the Unconformity's invitation to pursue this fieldwork on the West Coast was the disruption in rhythm and context I was unaware this topic demanded. Certainly no city, Queenstown is a place whose remoteness from the interconnectivity of urban life almost forced its ingenuity in supercharged extractive mining. "If you can't buy it, make it and if you can't make it, make do" is a classic slogan here.
In the cleavage of barren landscape between mounts Dundas and Huxley, irreversible amounts of precious metals have been extracted from the deep-time tiramisu of earth. This is tangible even today as the infamous Mount Lyell Mine lies in repair and maintenance but wide open to the elements. Essentially a ginormous sieve, the subterranean site once staffed by hundreds of people collectively preparing copper to be refined in India or China is now serviced by only a handful who monitor the continuous drainage of fluids from the mine's flooded lowermost levels as the porous mountain binge-drinks rain. The discovery of fine gold in thick ironstone here in 18821 led to the uncovering of a massivepyrite ore body a decade later. A rare rack-and-pinion railway was carved in treacherous topography to transport copper directly interstate and overseas from Mount Lyell via the port of Strahan. And private hydro-electric power scheme was set up at Lake Margaret in 1914 to service the mine. A lot of copper has been taken from this country already, almost 50 million tonnes of copper ore was extracted in the period 1934 through 1972 alone. At this moment, the mine is for sale and it is believed 135 million tonnes of unidentified resources lay in wait. Such intense productivity would have been impossible without deep degradation of the waterways, landscapes and the atmosphere here. Much has been taken and few residents of Queenstown ever benefited directly from the riches of their labor or the product extracted from her land's cavities. The rocks here reveal the unfolding of modern infrastructure over centuries and every second local seemed a low-key geologist prepared to explain the depth of almost any cold mass in sight. This landscape and its dirty history offer a myriad of locations and lived experience to reflect on, document, experience and imagine from. This is a place unlike many we populate where the sites of extraction and production that power our urban lives are naked to witness and contemplate. A place where people are very aware and honest.
The local community were welcomed to the Country Women's Association Hall to hear me share the shape of the project I would spend a fortnight on. 'Mapping future memory' invited Queenstown to share their stories of spaces that are obsolete and cease to function in the way they are remembered. The work composed a network of empty architecture while simultaneously enquiring what this productive place was busy getting on with post- copper. It is a speculative project that superimposes local practices-in-action on obsolete architectures. I had an uncanny reminder the day I arrived on the West Coast of the small villages of the Seto Sea in Japan that have been the powerhouses of energy and waste management for larger municipal areas like Osaka and Tokyo for over a century. Tiny communities with rich histories in the truest sense of innovation; generating power from earth and making waste disappear. These peripheral temples, as we could call them, seem suspended in a very strange moment between a world seeming evermore willing to confront the planetary changes necessary for a sustained future, and a place whose history is embedded in the practices we know we need to move away from. Many structures lay abandoned at the mine site and all over town, some have burned or been demolished while others have been adopted and injected with new life. These three scenes are imagined scenarios composed from my real encounters with Queenstown and its people, who I thank immensely for their contribution.
Food Forest in the former Electrical Workshops


1. Food Forest in the former Electrical Workshops |
Eleanor Peres
Slag is a dark and often iridescent mass of impurities separated as a byproduct of the smelting process for copper production. Downstream of the Mount Lyell mine where the Queen River runs rusty orange, a cluster of industrial sheds sit unoccupied by an artificial hill of slag. A small forest was planted atop the slag heap as a parting gift from the former mine operators when the site changed hands in the mid nineties as a gesture of commencing a different understanding of ecological degradation here. The sheds were built as testing grounds for electrical engineers working at the mine and have been reimagined as an indoor food forest. The slag hill has been removed and its material unitised to form bricks and tiles to renovate the sheds interiors, a material the Japanese call
Karami.
In an unforgiving climate with degraded soils and waterways, opportunities for diverse fresh produce is limited. students from Mountain High School spend classes tending to fruits, vegetables and herbs in wicking beds that are overseen by local permaculture experts Maureen and Kim. Before relocating, they raised their family completely off-grid in locations around Australia and have built knowledge on soil minerality and the balance demanded from every tree, flower, vegetable, fruit, herb and animal. I learn from them a thriving poly garden comes down to the health of the soil, frequently brix tested and rotationally hosting new seeds each season. They have created a thriving food forest in their backyard in Queenie and their experience is integral at the converted workshops where locals drop by on weekends to buy ingredients grown in circular planters made from repurposed mine tyres.
Bathhouse and Hotel in the former Royal Hotel, Linda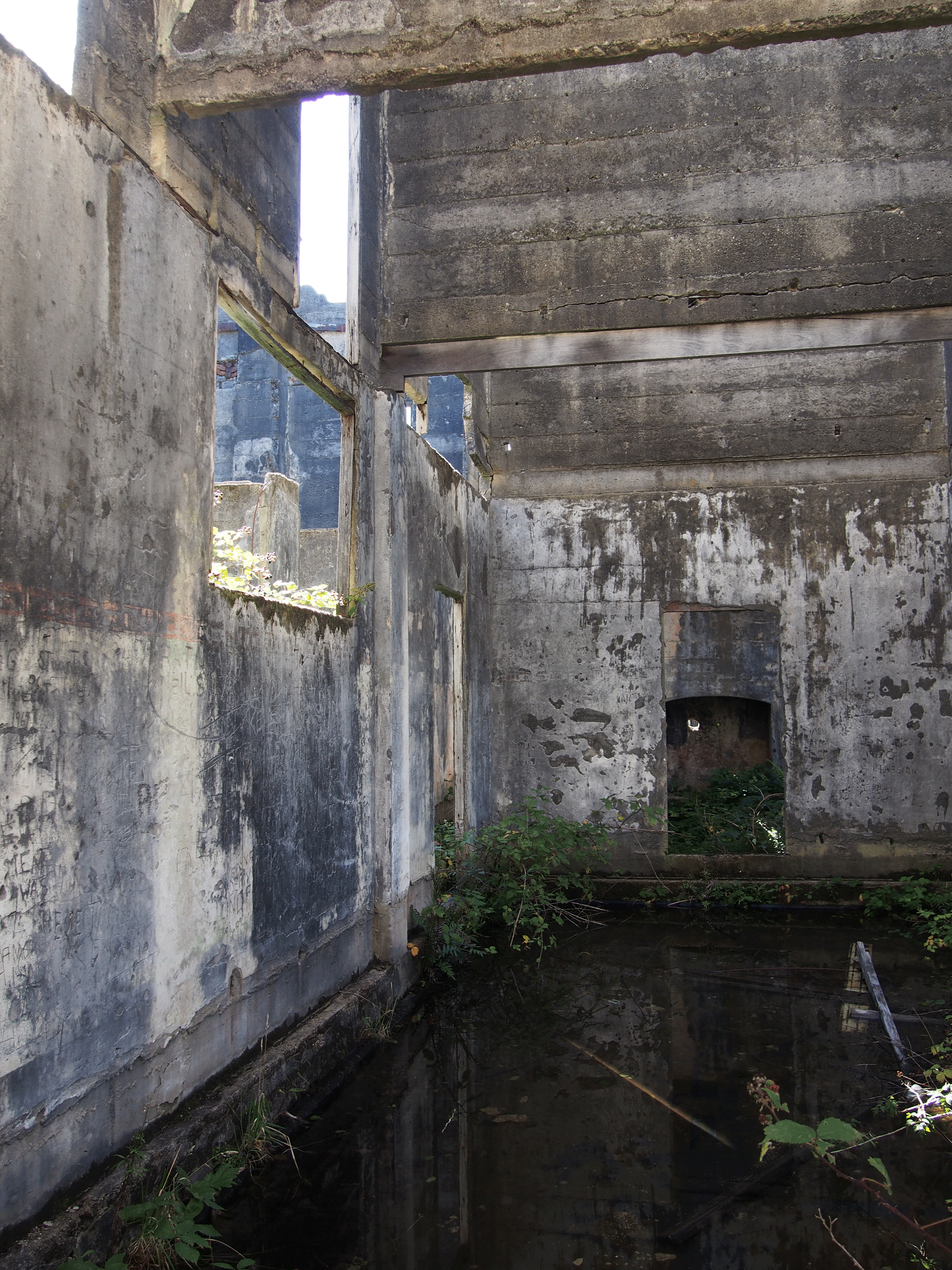 2. Bathhouse and Hotel in the former Royal Hotel, Linda | Eleanor Peres

Ten minutes uphill from Queenstown lies a magical brutalist slip-concrete ruin that was purchased by siblings Zara and Matt in 2020 with a vision of transforming the hotel to represent a world class destination. The Royal Hotel Linda opened its doors in 1940 and served its last drinks in 1952 as the mining community of Linda dissolved into surrounding towns. The property sits right where mountain bike trails drop onto the Lyell Highway and is a mossy landscape framed by the Idaho and Linda creeks. Up to twelve guests can be accommodated in luxury cabins dotted along the boundary at the water's edge. Fresh bread, coffee and artisan wines, spirits and produce from all over Lutruwita is served in the public dining room or hotel guests can order a la carte from the comfort of their cabin. Select pieces of Sassafras, King Billy and Huon Pines that had been in safekeeping at Ian's local timber mill have been installed for structure, joinery and details throughout the site where guests soak themselves after long days of exploring the mountains. Ian's local timber mill moved to Queenstown when the hydro dammed its former location on the king river in 1985 and he rescued large quantities of 43,000 year-old Huon Pine. Precious timber is evermore precious in a place where extraction and protection have long been at odds and where aromas of sweet leatherwood flowers, crushed sassafras leaves and emanating oil from native timbers guide the senses on corridors where they survive. The timber Ian stocks is strictly not used in just any old project but he was eager to work with the Siblings to draw people to the rugged hills of Linda and the West Coast.

Lutruwita Museum of Rocks at the former public School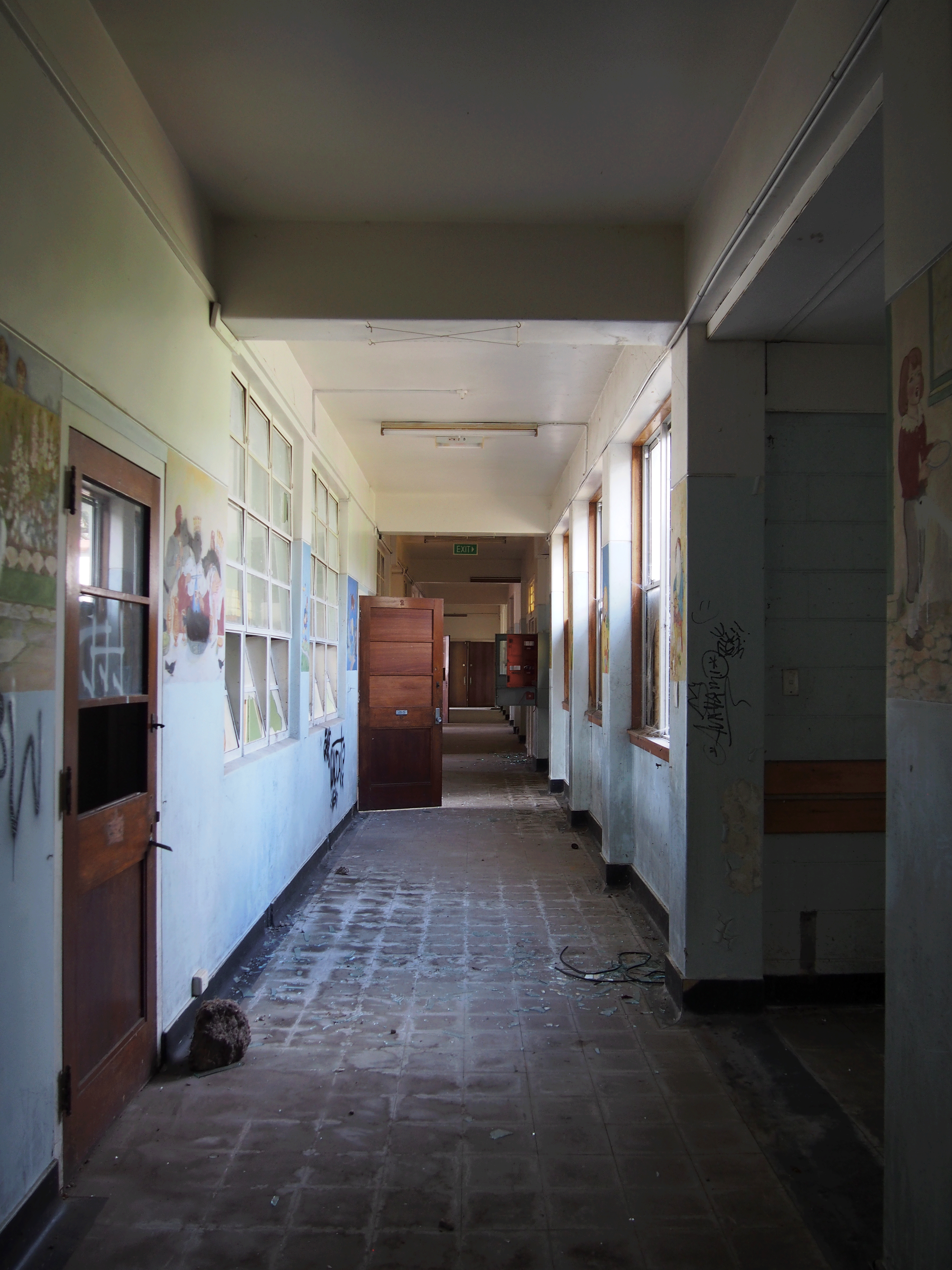 3. Lutruwita Museum of Rocks at the former public School | Eleanor Peres

Queenstown's declining population had led to abandonment of several public buildings, including this two-storey school with curved staircases, mural-adorned hallways, hardwood joinery and beautifully lit classrooms. While West Coast Council kept the keys, the school lay empty for years with no volunteers to cover the costs of removing the asbestos-filled vinyl floor tiles. Almost every window was smashed and every mural tagged but the masonry shell of the structure stood perfectly intact with hardwood floors hiding beneath vinyl. The inherent knowledge of geology and a general fondness toward rocks in locals led the State Government to select the former school as the site for LIR 'Lutruwita Intsitute of Rocks' and funded the asbestos removal and restoration. Since the eighties, Eleanor and Mike Phelan had prospected the rare and precious minerals stichtite and crocoite in open and underground private mines in Dundas nearby. Stichtite is a purple mineral that occurs in the green rock serpentine and has been found in only a handful of places on earth. It was discovered in 1910 on the west coast by a chemist at the Mount Lyell Mining and Railway Company. Rory Wray-McCann and the Phelans were known in town to have the most prolific private collections, intuitions and experience working with rocks so naturally became curators of the museum. Newer outbuildings of the campus were already up and running as 'PressWEST' for several years under the guidance of local artists Helena and Raymond with local rock shop owner Shan. The LIR collaborates with PressWest to host exhibitions of paper works and continue the
Lost Rocks
book series. The former public school acquired over thirty private geological collections from the West Coast and is a public platform for sustainable geological futures.


CONTRIBUTORS


Eleanor Peres↩
and
mone studio↩